Plant Rental, Plant Maintenance & Plant Leasing
Plantman.com Interiorscape Services and Plant Rental Service offers:
Experienced Plant Maintenance Plant Design Service
With 20 years corporate plant maintenance, office plant care, event rentals, finer interior plantscape and plant rental experience, we know experience matters. No business too small.
Guaranteed Maintenance Programs
All plants must thrive. Our plant maintenance, long term plant rental service assures our client continuously thriving plants with flexible month to month terms, packaged to fit your needs.
Orchid and Flower Rental Rotation
Orchid arrangements are an affordable and strikingly beautiful addition to any lobby. Add an orchid arrangement for as little as $75 per month.

Free Plant Service Estimates or Phone Consultation
Please feel free to call San Francisco San Jose plant rentals (408) 921-1600
Los Angeles plant rentals (310) 883-4863
Santa Barbara and Ventura plant rentals (805) 857-1298
Orange County and San Diego plant rentals (805) 857-1298
Affordable Office Plants Includes Fine Pottery
High quality ceramics are included in month-to-month office plant service plant lease. Office plant service is an affordable and flexible alternative for businesses of any size. Plantman.com's indoor plant rental / leasing rates are simple, and month-to-month interior plant leasing programs offer 100% guaranteed plant maintenance with free replacements, moves and changes.
Contained Planter & Atrium Expertise
Plantman.com plant maintenance and plant rental has installed dozens of the most beautiful and largest atriums in California. Beautiful plants, plant sustainability, plant cultural factors and safety are our goals.
Impressive, Beautiful Plant Rentals and Tree Rentals for Special Events Weddings
Rent Ficus with lights, rent hedges, rent palm trees, topiaries, ferns, ivy, flowers, waterfalls, streams, ponds, bamboo, enchanted forests or jungle for photoshoots, stage, party or corporate event.
Short Term Event Rentals Include Free Delivery of Plants with Rental over $400
Plantman's event rentals plant rentals provides plant rental San Jose, Monterey, San Francisco, Los Angeles and San Diego and in between. Plant Rental Greenhouses in Santa Cruz, Ventura and Escondido.
Live (not cut) Christmas Tree Rental
Living Christmas Tree Rental services San Jose, San Francisco, Santa Cruz with a living (not cut) Christmas tree. Families have the same beautiful tree delivered year after year.
Please feel free to email us with any questions regarding our plant leasing or event rental services:
plantman@plantman.com
Plant Maintenance Services


Color accents designed with orchids or durable bromeliads add interesting highlights while controlling costs.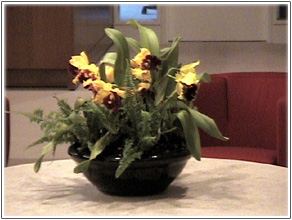 Strategic placement of plant and tree varieties add varying height, color and textural interest.

Biological controls may be used to manage plant pets in order to avoid pesticide use in public areas.

Balancing water and fertilization levels with plant requirements will reduce disease and pest problems and extend plant life.

Detailed grooming of foliage is critical to maintaining both plant health and your building's image in high-use areas.

Use of subirrigation in contained plantings will help control maintenance and replacement costs.
Benefits of Interior
Plants and Trees


Interior plants and trees breathe, giving us oxygen and refresh the air while removing toxins and absorbing odor.

Plants have a positive psychological even physiological effect by bringing an "outdoors feeling" indoors.

Plants increase humidity in sealed air-conditioned office places, making a more comfortable environment and reducing static electricity.

Plants provide beauty and increase relaxing ambience by offering the eye attractive colorful focal points.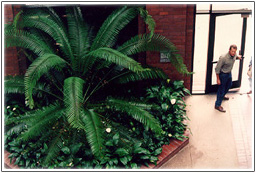 Earth Day Oak Tree Seedlings
Purchase the prefect gift for employees or visitors for Earth Day. Dozens or hundreds of locally grown 12" Oak tree seedlings in soilless media and compostable recycled 4" wide growing container make the perfect promotional handout in the spirit of Arbor Day.