Los Angeles Plant Maintenance, Plant Rentals and Plant Leasing
Plantman.com, owned by Eric Manning, offers tree and plant rentals, leasing and maintenance plans, and highly specialized design services, including interiorscape, consultation, construction, and maintenance. Drawing upon 25 years experience, Plantman is able to offer the designer/architect the most usable information for interiorscape design. Plantman provides service to some of the better known commercial facilities in both northern and southern California.
Our Los Angeles plant rental and plant maintenance service offers:
Experienced Plant Care & Plant Design Service
Experience matters. Whether your business is a major corporation or a small office, we have an affordable plan to accommodate your needs. Please call for a free phone consultation and/or estimate.
Free Delivery for Plant Rentals over $400
Plant rentals in Los Angeles, San Francisco and San Diego and in most cities in between. Plants, trees, fountains or streams day-rentals available for your special event.
Greenhouses in Santa Cruz, Ventura and Escondido.
Plant Atrium Expertise
Plantman's plant rental and maintenance service has installed several of the largest and most beautiful atriums throughout California.
Our goals are:



beautiful, healthy and thriving plants, trees and flowers

plant cultural factors

safety

complete client satisfaction.

Wedding Arch Rentals
Wedding Arches (12 feet tall) covered with Ivy and Ferns
Orchid Rentals
Long term leasing, short term rentals, or rentals for just a few hours.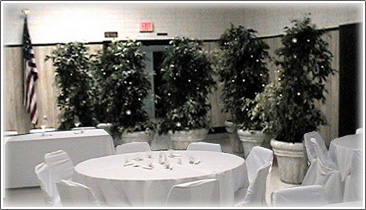 Ficus Tree and Palm Tree Rental


Rent palm trees and/or ficus fences to create a solid backdrop or divider of green.
Rent lighted trees, trees with cordless twinkle lights or mood lights – place a lighted tree anywhere, no plugs required.

Rent or lease large ferns for lecturns, podiums or weddings – whatever your needs for plant and flower rental.
Rent "Living Walls" - rental trees and hedges, topiaries 2 ball and 3 ball, spiral topiary, palm trees 15' tall, ficus with lights.
Flower Rental Rotation
Orchid Arrangements
Flower orchid arrangements for rent or lease. Whether your need is long-term plant leasing or flower rentals for just a few hours for a special event, such as: wedding arch rentals, bridal shower flower rental, formal dinner/banquet plant and flower rentals, party decoration rentals, Easter floral arrangement rentals, Christmas tree and foliage rentals or Thanksgiving floral rentals–whatever the occasion, we have an affordable solution. Our rental ficus trees 15' tall, ficus fencing and barriers 7' provide beautiful "living walls".


Rent jungle ponds, streams, beach scenes, waterfalls, lagoons, enchanted forests, christmas trees, all different sizes, shapes and colors of trees.